Currently, Confura and Scan Open API are public resources available for developer testing purposes only. However, the free version's capacity has reached its limit, and a paid version will be launched on May 8th, with the following throttling and pricing standards:
Confura throttling and pricing:
VIP version:

150 per month. You can purchase it on the page https://confluxhub.io/payment/consumer/app/subscription/0x33A9451ee070d750a077C93f71D2cFcD0180Fa7D


Enterprise version:For specific pricing information, please send an email to
[email protected]
for further details;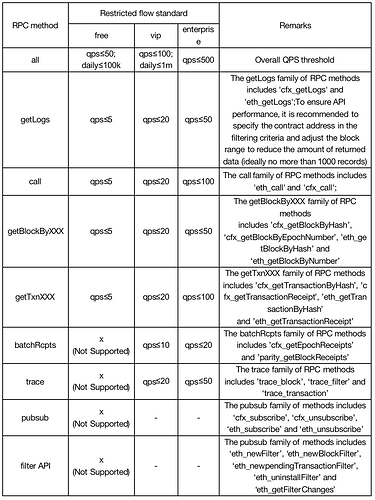 Remarks:
The throttling value mentioned above for a series of methods refers to the throttling threshold of any method within that series, rather than the throttling threshold of all RPC method requests within the series.
QPS (queries per second) refers to the number of requests made per second, while "daily" refers to the total number of requests made within a single day.
After obtaining an API key, you can use it to make queries by accessing the website https://main.confluxrpc.io/<your_api_key>.
Scan Open Api throttling and pricing:
Free version:5 times per second, 100,000 times per day;
Sandard version:20 times per second, 500,000times per day.

150 per month. You can purchase it on the page https://confluxhub.io/payment/consumer/app/subscription/0x7F55828E334e63065B88055776db3A58734220Ad


Enterprise version:100 times per second, no limit on the number of times per day. For specific pricing information, please send an email to
[email protected]
for further details;
After obtaining an API key, you can use it to make queries by accessing the website https://api.confluxscan.io/ api key ; parameter:apiKey=<your_api_key>