*** Vison of ColorBlock**
ColorBlock is committed to building the world's leading blockchain-based community of digital painting. First, through the self-developed online painting engine, it provides more convenient tools for art creators to help them create online art works; Second, through the NFT release agreement of the blockchain, it records the creation process synchronously on the blockchain, and simultaneously packages the art works into exchangeable assets on the chain to help artists store, collect, and trade assets; Third, it connects creators, consumers, and investors of digital content through a token economy system, thus building an active and influential blockchain platform and community for creation of digital content and trading of IP derivatives.
ColorBlock always believes and hopes to light up life and create values through creativity.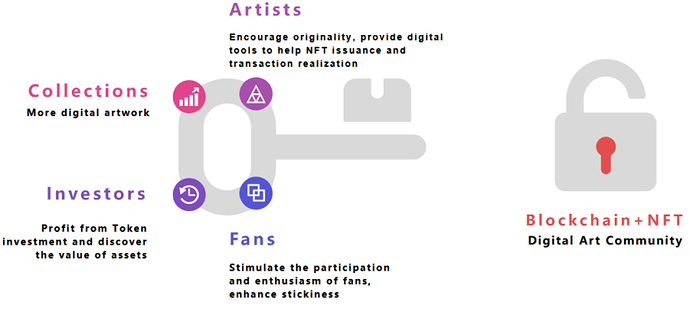 The are a large number of fans for artistic creation and various types of paintings, including different types of creators, both professional ones, amateur ones and young people who hope to learn. Different creators and their works have a social attribute, circles are formed by the large number of fans, thus bringing traffic for ColorBlock and forming a benign community ecology.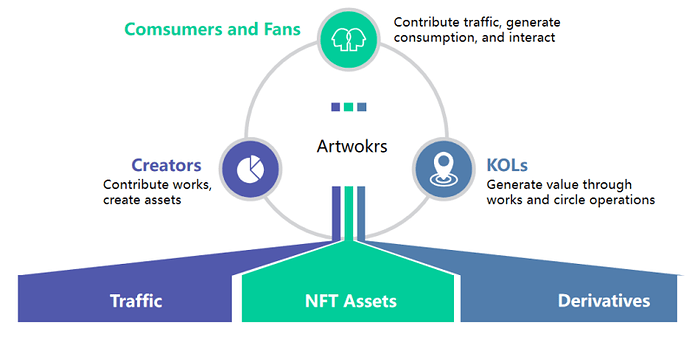 The ColorBlock ecology includes several types of assets:
Assets endorsed by projects of platforms
Circle assets relying on KOLs and leading influencers
**Advantage of ColorBlock
ColorBlock originated in the digital art community, providing tool engines for online design and creation, and gradually formed a digital creation engine, 3D rendering community, online trading and other products and platforms on the basis, and gradually formed a series of art lovers, fans and creative big Coffee has formed a closed-loop community model. Our creative goal is to increase value through global blockchain technology and NFT assets by opening up global markets and fields.


*** Cooperation betweent Japan and China**
ColorBlock will present closer cooperation areas in the future, and currently has cooperation and prospects in the following areas. It has market resource not only in Japan but also in China.
Cooperative drawing board and equipment
Film and television animation
Game cooperation
Online courses