UPDATE — May 31, 2021

We are excited to announce Flox v0.0.2 was released.
Notable changes:
— Add staking section
— Bug fixes and other minor improvements
From now on, you can participate in the network by staking CFX.
Don't forget that Conflux is a network powered by participation.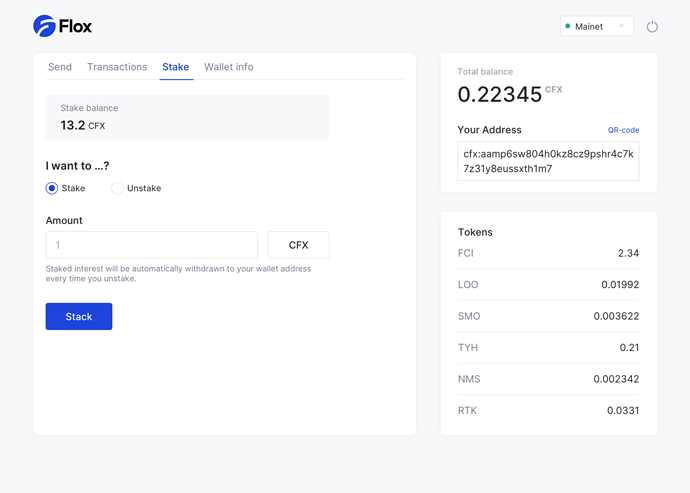 Check it on Github:
---
Project Title
Powerful and simple Conflux desktop wallet
Project Description
Flox is an open-source desktop wallet that allows you to manage your assets on the Conflux network.
Link to Website and social media channels
Website: https://floxwallet.com/
Twitter: https://twitter.com/floxwallet/
Link to Github
https://github.com/floxofficial/flox
Please provide your Conflux contract address
N/A
Grant Description (Key deliverables)
Wallet features
For Mac OS, Windows, Linux platforms

Enjoyable user experience

Beautiful user interface

Create a wallet

Unlock wallet with the private key

Unlock wallet with Keystore file

Send CFX

Send tokens

Stake and Unstake CFX

Show interest rate and earned amount

QR for address

Show last Transactions Show wallet info

Show CFX balance Show tokens balance
Key features
Safe
Flox is an open-source, client-side application. Your private key will not be stored anywhere.
Accessible
Flox is currently available for three popular operating systems, macOS, Windows, and Linux. You can install it on your PC.
Powerful
With Flox, you can manage your assets in the Conflux network and perform operations such as sending and receiving tokens.
Milestones

Grant Funding Tier
15,000 USD
Grant Status + Recent Updates
Completed - Version 0.0.3 of the product has been released and users can download it on the GitHub release section.