1) Funding Tier:
Tier 1 - 3 whole development process: Funding amount requested - $100K
2) Project overview:
Cryptagende brings a mix of triple-A gaming and new 'play-to-work' model into the Metaverse.
2.1 Project Description:
The entire game will comprise three stages. All of which will be powered by the Blockchain network and Unreal Engine 5, that serves to improve the player experience.

Cryptagende will boast a diverse set of game modes, featuring Classic team deathmatch, 5V5 competitive modes, Battle Royale, and co-op opportunities. On top of this generous selection, Cryptagende will introduce the Verse mode that perfectly mirrors our real-world economy.

The idea behind this new virtual playground is to unite a global audience of gamers, artists, and interested individuals. Cryptagende will provide them unlimited freedom of self-expression, fun, and opportunities to engage in a flourishing in-game economy.

The Layer 2 protocol of the Ethereum Network will ensure safe, speedy and low-fee transactions on the open trading marketplace of Cryptagende.
2.2 How will this project be integrated into Conflux?
Since we will be building our own layer 2 protocol and we are planning to launch our game on Conflux and contribute to the Conflux ecosystem.
2.3 Why is your team interested in creating this project?
Currently, there is a gap in the Metaverse gaming landscape - there are no triple-A games out there to harness the power of Blockchain and web 3.0. Therefore, we definitely have a huge 1st mover advantage. The verse mode will be launched after we have established a large, steadily-growing player base. The fusion of Layer 2 protocol's scaling solution and the state-of-art Unreal Engine 5 will be a key factor to our game's success.
As you are well aware, web 3.0 is all about monetizing the fun. Many gaming companies fulfill that promise through employing various tactics to control token inflation in order to hype up prices through liquidity creation efforts to expand or retain their player base. We want to make it clear that this is not what we want to do, what makes our P2W system so valuable is that it can really serve become a foundation to a healthy and sustainable in-game economy.
3) Project details
3.1 Technical innovations
Our team is dedicated to providing players with a cutting-edge experience and we strongly believe a fun gaming experience should be the cornerstone to our project. The Unreal Engine 5 is a powerhouse mixture of the Nanite, Lumen, and Quixel Megascan technologies, giving us the ability to craft a cinematic, native 4K game world with a fully supported frame rate of 60 on PC and 30 on consoles will satisfy our player's hunger for unprecedented fantasy.
We are taking the concept of games like "Sandbox" to an entirely new tier. Armed with UE 5's excellent creation toolkit and an expansive library of ready-made in-game assets and architecture (anything you can imagine in real life, Quixel library has it in spades). In terms of player's accessibility, Cryptagende will be built on the Ethereum Network that supports the cross-chain function, meaning that players can trade their in-game virtual assets on the Ethereum, Solana and polygon-based NFT platforms. We have also chosen a USD-stable coin as an effective trading currency, which further ensures stability and healthy development of our free market economy.
3.2 Any mockup designs of in-game visual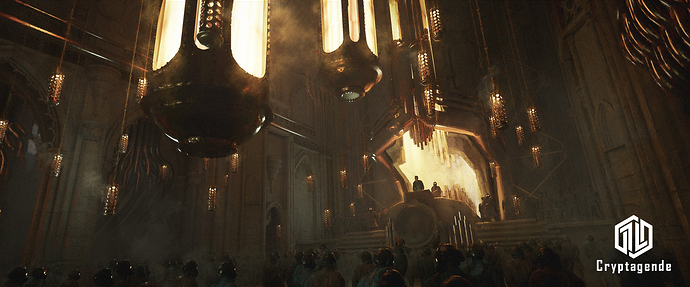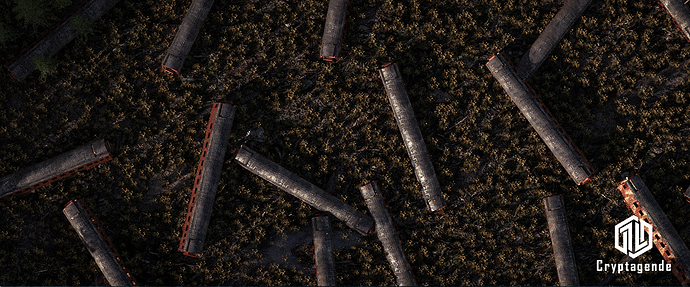 4) Team
Our team comprise of expertise and experienced game developers in the triple-A gaming industry. Coming off of world-famous projects like Far Cry and Rainbow Six, the team is ready to deliver the definitive shooter experience to the Metaverse. The team also includes accomplished professionals in the Blockchain industry and experienced Unreal Engine 5 developers.
View their past projects here:
5) Roadmap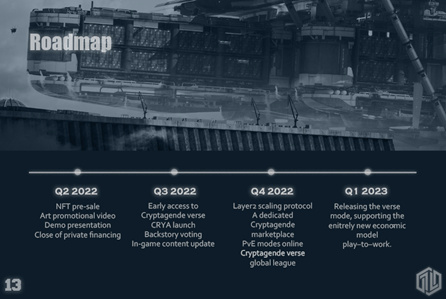 6) Others
Cryptagende
Website:https://cryptagende.com
Github:https://github.com/Cryptagende/Cryptagende-protocol… Twitter:https://twitter.com/CryptagendeGame
Discord: https://discord.gg/wSkDRYKz6z