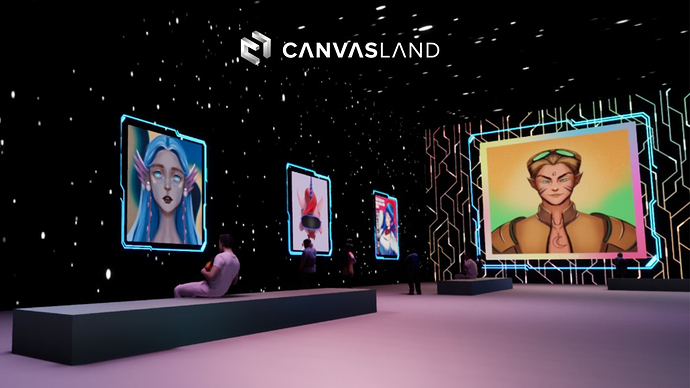 Funding Tier: Tier 2 - 15k
Project Overview:
AngelLab NFT Collection

I aspire to become a Web3 artist, leading the avant-garde shift from traditional artistry into the blockchain sphere. The "AngelLab NFT Collection" not only serves as a platform for me to expand my personal brand, but it also manifests my ambition to be part of the digital revolution by extending my artworks to the Metaverse.
Furthermore, I intend to create a DAO that fosters a democratic and transparent art community, emphasising the spirit of collaboration and collective decision-making.
Project Details:
High-Level Conceptual Approach:
The approach of my "AngelLab NFT Collection" is a three-phase process that combines traditional 2D art with futuristic AR art experiences. The journey commences with the creation of unique 2D art pieces, primarily serving as PFP NFTs that are intricately designed to be exclusive digital assets for collectors.
The second phase involves the integration of the collection into the Metaverse, where a virtual gallery will be curated, giving the audience an immersive experience of interacting with the artwork.
The final stage will catapult the viewers into an augmented reality (AR) experience. Moreover, I plan to bridge the physical and digital worlds by producing merchandise based on the NFT artworks, amplifying the tangible aspect of owning digital assets. (Using Nike .Swosh / CloneX as reference)
Design Mockups or Sketches:
My previous works, available for viewing at Jhueee.ArtStation, serve as an exciting preview of what's in store for the "AngelLab NFT Collection". They demonstrate the skill, imagination, and vision that I will incorporate into the collection.
Overview of the Mediums Used:
Each artwork in the "AngelLab NFT Collection" is a fusion of multiple tools and software that helps me to convey the intricate details of the concepts.
The journey starts with a sketch, where initial ideas are given a physical form. The sketch is then brought to life using Procreate, where I add colours, texture, and depth to the art. Adobe suite is used for the final touch-ups and to add more complexity to the piece.
This blend of mediums ensures that each piece resonates with the intended theme and aesthetics.
Collection's Themes and Thesis:
The "AngelLab NFT Collection" weaves together various themes and cultures that have significant societal and personal relevance. At its core, the collection is a celebration of Anime and Y2K culture, creating aesthetic avatars with hip hop and futuristic clothing elements.
The pieces are not mere portraits; they are fantasy characters - elves, angels, demons - that each tell a tale. Through these digital pieces, I aim to tell stories of epic battles: Gods versus Demons, Elves versus Dragons, and Humans versus Aliens. This juxtaposition of mythical beings with modern culture cultivates a unique brand of storytelling that challenges the boundaries of imagination and reality.
The goal is to evoke emotions, foster thought-provoking dialogues, and create an inclusive community that appreciates the fusion of different cultures, styles, and stories.
Team:
Jhueee (Digital Artist):
Introduction: I am Jhueee, a 25-year-old artist hailing from the vibrant city of Hong Kong. My journey with digital art started at age 15, and it led me to the acclaimed Polytechnic University of Hong Kong, where I honed my craft.
Recognised among thetop 100 comic style artists in Hong Kong in 2022, I've also made meaningful contributions to the Elrond NFT ecosystem (Plata Network; Elva Forest; Odyssey). The heart of my community thrives in Hong Kong and Taiwan, where their unwavering support fuels my creativity.
My dream is to inspire young people to chase their dreams through my art, aspiring to become an influential creative director. I view my artistry as a shared journey, inviting you to traverse the realms of imagination with me, making the world a bit more vibrant, one pixel at a time.
Social: https://www.instagram.com/jhueee.art/
Email: [email protected]
Roles: Digital Artist, Motion Graphics, 2D & 3D Designer, Animator, Clothing Brand Owner, Model
Previous work: https://www.artstation.com/jhueee
Zen F (Metaverse Developer @CanvasLand):
Social: https://www.linkedin.com/posts/zen-f-39a785217
Email: [email protected]
Roles: Metaverse Advisor, Metaverse Support, 3D environment creation and implementation, Founder, Fitness Model
Previous Work: https://www.canvasland.xyz/portfolio ; https://www.canvasland.xyz/awards
Grant Milestones:
Milestone One - 2D Art PFP NFT Creation
Deliverables: The creation of a unique set of 2D art pieces serving as PFP NFTs.
Requested Funding: 30% of the total grant.
Duration: 1.5 months.
Milestone Two - Metaverse Gallery Integration
Deliverables: The successful integration of the created 2D art PFP NFTs into a curated virtual gallery in the Metaverse.
Requested Funding: 50% of the total grant.
Duration: 2 months.
Milestone Three - AR Art Experience
Deliverables: Develop an AR art experience that bridges the physical and digital worlds of the collection based on the NFT artworks.
Requested Funding: 20% of the total grant.
Duration: 1 months.
Total Grant Timeline: The overall timeline for these milestones is approximately 4.5 months.
Community Engagement:
The strategy to engage with the community revolves around maintaining an open dialogue, offering unique experiences, and providing valuable content. I plan to leverage various platforms including social media and virtual meetups to foster a sense of belonging and drive conversations around the collection.
Social Media Engagement: Regular updates, sneak-peeks, behind-the-scenes glimpses, and artist AMAs sessions on platforms like Instagram, Twitter, and Telegram.
Virtual Meetups: Hosting virtual events and webinars to discuss the project's progress, share insights about the artwork, and engage with the community through live Q&As and Metaverse experience.
Reward Programs: Implementing reward programs and exclusive benefits for early supporters and active members, such as early access to the artwork, special discounts on merchandise, or unique AR experiences.
Collaborations: Partnering with other artists and influencers in the space to promote cross-community engagement and reach a larger audience.
Long Term Vision:
The long-term vision of the AngelLab NFT Collection is to push the boundaries of digital artistry and storytelling, seamlessly integrating it with physical experiences to redefine the perception of art.
In alignment with Conflux's mission, this project aims to bridge gaps and connect diverse communities. Also, through the creation of a DAO, I plan to establish a democratic and transparent art platform that empowers creators and cultivates a collaborative ecosystem.
The AngelLab NFT Collection will stand as a testament to the fusion of cultures, styles, and narratives, reflecting the possibilities of a connected, borderless world. As such, it strives to encourage more artists to leverage the power of blockchain technology, thereby expanding the creative potential of the Conflux ecosystem.