Open Grant - Non-Figgybles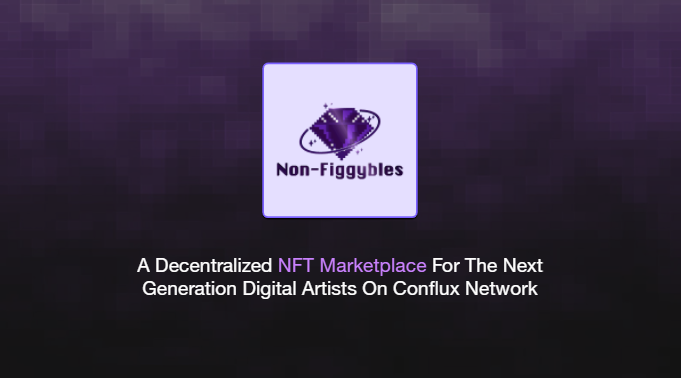 Description: NonFiggybles is both a marketplace, as well as a distributed network built on Conflux Network.
Target Market: Emerging artists, social influencers, students, NFT creators/developers
The benefit to Conflux: Help the ecosystem with our community. Also partnered with key players in the Conflux ecosystem like ConDragon, Moonswap, and Flux01 to create co-marketing strategies where we can showcase NonFiggybles
Team :
Cristian - Founder / Operations
Elisha - Backend Developer
Iason - Frontend Developer
Luke - Marketing
How will this project be integrated into Conflux?
NFT token will build with CRC115/ CRC721
Accept all CRC-20 token (CFX, cETH, cUSDT, cUSDC)
Rewards return with $FIGGY ( seller/buyers)
Why is your team interested in creating this project?
Benefits Over Competitors and Unique Value Add
0-gas
Instant transactions
First permissionless NFT marketplace on Conflux Network
First NFT minting tool on Conflux Network
Cross-chain NFT bridge (post-launch)
First native token launched on Conflux Network
Project Details
Product flow & Architecture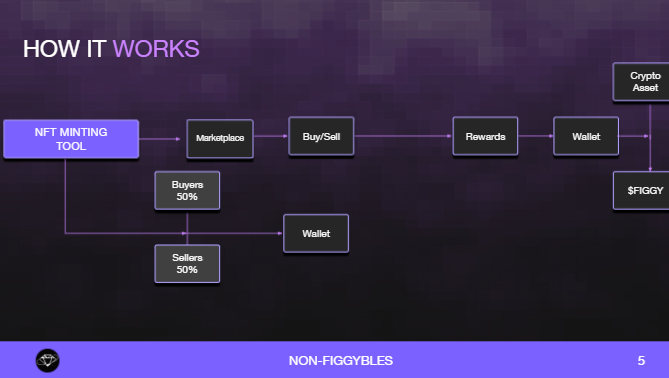 Any mockup designs of user-facing components.
https://figgywebsite.vercel.app/ http://nonfiggybles.xyz/
Ecosystem fit: How can the project benefit Conflux Network's ecosystem?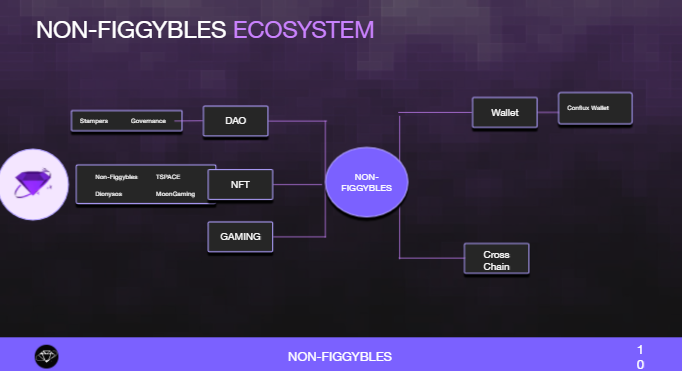 Team:
Cristian Figueroa - Founder / Operations
Elisha - Backend Developer
Iason Perikleous - Frontend Developer
Luke - Marketing
Github

Development Roadmap: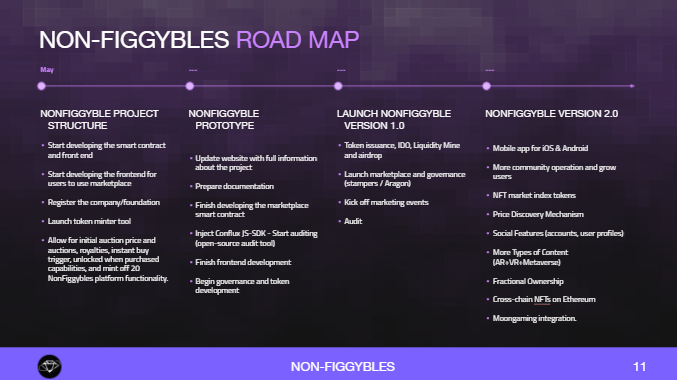 Weeks
1 NonFiggyble Project Structure
Build a landing page
Start developing the smart contract
Start developing the frontend for users to use the marketplace
Register the company/foundation
Launch token minter tool
Allow for initial auction price and auctions, royalties, instant buy trigger, unlocked when purchased capabilities, and mint off NonFiggybles platform functionality.
2 NonFiggyble Prototype
Update website with full information about the project
Prepare documentation
Finish developing the marketplace smart contract
Inject Conflux JS-SDK
Start auditing (open-source audit tool)
Finish frontend development
Begin governance and token development
3 Launch NonFiggyble V1
Token issuance and airdrop
Launch marketplace
Begin liquidity mine on Moonswap
Kick-off marketing events
Launch Aragon Governance
Audit
Specification of the software or deliverable will be used to confirm milestones have been reached
Total estimated duration and cost of the whole project
Budget & Cost
Expense
Budget ($USDT)
Marketing Budget
$8K
The marketing plan will be described in further detail below
Artist Budget (Source initial listings)
$ 3k
An initial pool of liquidity we will use to source artists and the initial listings on the platform
Cloud Service / Operations
$ 500
A small reserve of tokens used for web hosting, smart contract sponsorship, and other operational expenses
Reserve Balance
$1k
Reserve balance of $1k that will be used in case of out-of-the-blue expenses in the future
Core Team
$9k
Community and Translation
3.5k
Total:
$25K
Long Term Vision What is the team's long-term vision for the project?
$FIGGY DAO
Our ultimate goal is to evolve towards a Decentralized Autonomous Organization (DAO) built on Aragon, where all decision rights will belong to the platform users.
$FIGGY token. It Will be awarded to the active users of the platform, it will act as the governance instrument also will enable collectors and creators to vote on multiple upgrades and decide how the platform should develop further. This makes the governance of the platform directly responsive to our most active users and brings Non-Figgybles closer to being a public good operated by the community members who value it most.
$FIGGY token holder rights
I. Voting on system upgrades
II. Moderating creators on the platform
III. Curating featured artworks
IV. Treasury Management
Community Engagement:
Layout :
Social Media: Publish project highlights, proposals for DAO votes, news and announcements on Twitter, Medium, Instagram, Discord and Wechat at least three times a week (This will be executed by the marketing manager). Collaborate with designers from the marketing team, artists, and ambassadors to facilitate in posting more pictures or other visualizations in order to gain more reviews.
NonFiggybles Community Content Publishing: Collect articles monthly from the community on topics related to NonFiggybles in exchange for $FIGGY tokens in the reserve fund. Topics can be around their own stories in the NFTverse either related or not related to NonFiggybles, proposals to future developments of NonFiggybles, and any other topics the community is interested in. Review and select the most valuable articles and publish on NonFiggybles Medium for the English community and WeChat for the Chinese community. Assign rare NonFiggyble NFTs to the writers and contributors.
Community Feedback Collection Campaign: Collect community feedback on new proposals, new features and other cool ideas. Create a community feedback intake online form to collect feedback from the community and then forward the feedback to the dev team to help create more community-selected NonFiggybles features.
NonFiggybles Volunteer Campaign: Collaborate and lead all volunteers to work together to complete volunteer tasks and reward volunteers upon task completion. The volunteer tasks will be announced on social media and task details will be explained on Discord/Wechat groups to volunteers. Our marketing manager will be tracking volunteer task completion status with the community managers and reward volunteers in time dependant on their contributions.
China Marketing Campaign: Due to the unique position Conflux Network has in China, we believe a key market to penetrate which is both attainable and untapped is China. However, due to the general lack of market awareness of NFTs in China, we believe the strategy here would be to get community managers on the ground who knows how to better navigate the region, the plan of localization in the China market would be a portion of the funds that comes out of the marketing budget. We will be collaborating with China community managers to execute the following plans:
NonFiggyblesCN Media: Partner with top China Media and create and publish PR articles across top China media platforms using Conflux Network connections and localization experts.
NonFiggyblesCN digital marketing campaign: Design NonFiggybles stickers, pictures and videos and encourage the community to share on their social media.
AMA: Host AMA with China community bi-weekly
NonFiggyblesCN Meetups: Host meetups and discuss project development, proposals and road map with the community more closely at least once a quarter in China (when virus situation allows for it)
Support dev team to add Mandarin to nonfiggybles.xyz website
Conflux Network Marketing Campaign: Part of our challenge in growing NonFiggybles will be luring over artists from the Ethereum platform over to a growing platform like Conflux Network. We aim to involve Conflux Network in our marketing strategy to help share the growing ecosystem with our community and vice-versa. We have already partnered with key players in the Conflux ecosystem like ConDragon, Moonswap, and Flux01 to create co-marketing strategies where we can showcase NonFiggybles, as well as provide a new NFT marketplace for all of their NFT efforts. We believe the best way to grow the ecosystem is to partner with other ecosystem players so that we can scale quickly and provide a much-needed ecosystem tool that will benefit all current and future developers coming to the chain.