Xinmin Weekly (新民周刊) is an online and print magazine published in China that has a very wide circulation.
This week their Cover Story about Web3.0 highlights Conflux and Conflux Ecosystem projects in 9 articles.
"Xinmin Weekly" Issue 1199 Published on 2022-08-29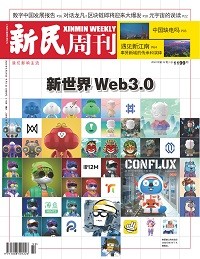 Below are links to each article as well as naively Google translated PDF versions of the articles for ease of accessibility to the English speaking community.
Blockchain: The Highway to Web 3.0
English Translated PDF
Dialogue with Long Fan: Blockchain is about to explode
English Translated PDF
Misreading of the Metaverse
English Translated PDF
NFTs: Your ticket to Web 3.0
English Translated PDF
Mosai: Metaverse Island Dwelling, a Civilization Reconstruction
English Translated PDF
Thin Box: Trends Never End…
English Translated PDF
Shuangjing: A Cultivation Brand in the Web3.0 Era
English Translated PDF
How do ordinary people play the metaverse?
English Translated PDF